First Comparison Ferrari SF71H VS Ferrari SF70H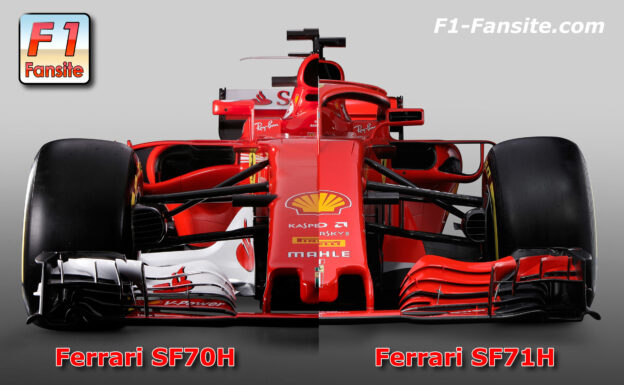 The Ferrari SF71H is the sixty fourth Formula 1 car designed and produced by Ferrari.
The car lost all of it's white livery, probable because Santanter stopped their sponsering and got a dark silver line instead. The black at the lover parts of the car stayed.
and is clearly an evolution of last season car. The perfomance of last years car was very good, so Ferrari had no reason to change the concept of the car.
The Halo is fitted nicely, although nice is a word we don't like to use in combination with the word Halo. Ferrari says the Halo weighs around 7 kg, including fitting gear. Accourding 2018 rule changes the cars are only allowed to gain 5 kg of weight. Therefor teams and drivers had to figure out how to loose 2 kg. The total weight of the cars is now 733 kg.
The number of V6 engines that can be used over the course of the season, without incurring a penalty has been changed from 4 to 3. This also applies for the turbo-compressor and MGU-H (the energy recovery system attached to the turbo). Only 2 MGU-K (the device that generates kinetic energy linked to the transmission), the electronic control unit and the batteries are allowed over the whole season.
What's new on the 2018 Ferrari F1 car?
Compared to 2017 car, the SF70H a few things have been altered and changed. We can see the following items:
The wheelbase has become slightly longer
The side pods have been made more narrow and the intake shape has been changed.
The side dimensions are also revised along with the cooling system.
The back suspension has been changed
The engine cover is more narrow on the back and the air intake has been modfied from a triangle shape to a oval shape.
The inner bardge board is also smaller.
After it's launch the SF71H will be transported to Barcelona's Catalunya Circuit, for a filming day on Sunday the 25th, followed by the start of testing proper on Monday the 26th. The first session runs to the end of Thursday 1st March, while the second test takes place at the same circuit from 6th to 9th March. Both Scuderia Ferrari race drivers, Kimi Raikkonen and Sebastian Vettel will be driving.
Technical Data of the Ferrari SF71H
Chassis made from carbon-fibre and honeycomb composite structure
Longitudinal Ferrari gearbox (8 speed + R)
Hydraulically controlled limited slip differential
Semi-automatic high speed, electronically controlled gear change
Brembo ventilated carbon disc brakes (front and rear) with brake-by-wire system on the rear brakesPush-rod front suspension
Pull-rod rear suspension
Weight with water, oil and driver, 733 kg
13" OZ wheels (front and rear)
ERS System
Battery energy (per lap) 4 MJ
Power of MGU-K 120 kW
Max revs MGU-K 50000
Max revs MGU-H 125000
Ferrari 062 EVO Engine
Cubic capacity 1600 cc
Maximum revs 15000
Supercharging A single Turbo
Fuel flow rate 100 kg/hr max
Amount of fuel 105 kg
Configuration V6 90°
No. of cylinders 6
Bore 80 mm
Stroke 53 mm
Valves 4 per cylinder
Injection Direct, max 500 bar
More about the Ferrari SF71H
---
Check out more items on this website about: