Ferrari's Surge Puts Pressure on Red Bull at Singapore Grand Prix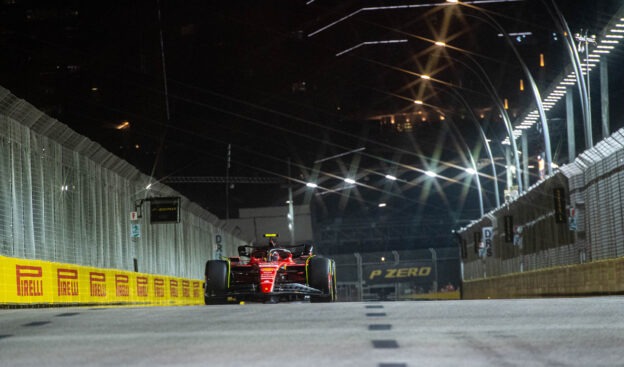 Sep.16 - Carlos Sainz has rubbished suggestions that Red Bull is suddenly 'in crisis' at the Singapore GP.
The Spaniard, and his Ferrari teammate Charles Leclerc, resumed their new Monza-style competitiveness in Singapore on Friday - while the Red Bulls were a huge 7 tenths behind.
"The gap is far too big," said Dr Helmut Marko.
One suspicion is that Red Bull has been hurt by the FIA's newly-enforced clampdown on flexible bodywork and wings.
"We've never really had any flexible front wing or whatever," Max Verstappen insisted.
But Marko admitted: "We have a new floor and we haven't managed to find a good balance. We were constantly oversteering and understeering.
"We have to rack our brains overnight and find something for qualifying," he added.
Marko admits Red Bull's 2023 car is still competitive on longer runs, but it is clear that the energy drink-owned team is not bluffing about its concerns.
"We can't find a balance," said Verstappen, who has won a record ten races on the trot. Teammate Sergio Pérez added: "Every time I brake, I'm afraid I'll end up in the wall."
Marko adds: "The drivers have no trust in the car. It's also unusual that Perez is two to three tenths faster than Max."
Verstappen continued: "We tried a lot, but nothing worked."
Also clear is that Red Bull's situation has been worsened by Ferrari's suddenly much more competitive car - as was the case two weeks ago at Monza.
"Tomorrow they will probably react and find some speed," said Ferrari boss Frederic Vasseur, "but it's true that when you are under a lot of pressure you start to make a few mistakes.
"But what goes on at Red Bull is none of our business," he told Sky Italia. "For us, we were already strong in Monte Carlo.
"We like the two extremes - Monza with little downforce and street circuits with a lot."
As for Sainz, he doesn't believe Red Bull is in major trouble.
"Red Bull in crisis? I don't believe that for a moment," he insisted. "People should look at their long runs - they were the fastest.
"Yes we have started well, yes we are a little surprised ourselves. And we know that a dominant car doesn't mean you always dominate in Singapore, which we also saw with Mercedes when they were dominating.
"But to automatically conclude that we will be in pole position would be presumptuous," Sainz said.
F1's most experienced driver, Fernando Alonso, smiled when asked about Red Bull's problems.
"They will correct the error by Saturday," he said. "For when it matters."
Marko had predicted before Red Bull arrived in Singapore that Ferrari would pose a challenge this weekend.
"There is only one type of corner here," he said. "That helps Ferrari."
---
✅ Check out more posts with related topics: