F1 race report: Ricciardo snatches maiden win after Mercedes falter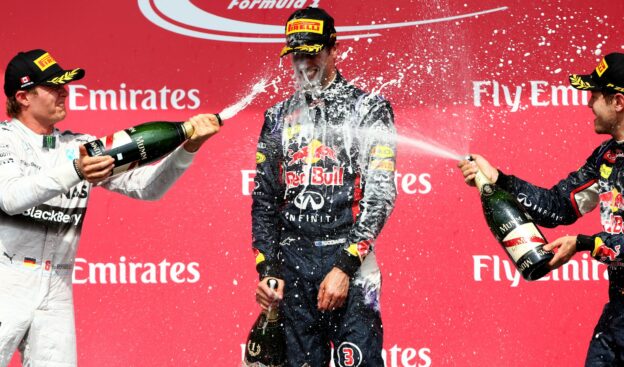 Daniel Ricciardo claimed a remarkable first win in F1 after a dramatic Canadian grands prix. The Australian passed the Mercedes of Nico Rosberg with one lap left and crossed the finish line under a safety car. It underlines a superb start to his Red Bull career where he again outperformed his team-mate, Sebastian Vettel.
Rosberg claimed an equally remarkable second after both his and his team-mate, Lewis Hamilton, suffered a drastic loss of power mid-way through the race, when they were over 20 seconds ahead of the field. Rosberg managed the problem superbly and kept his cool to almost hang on to win. He won't be too dis-satisfied with second after Hamilton earlier retired. It looked likely that Rosberg would also be forced to join his team-mate and not finish but slowly the car improved and he limped home to extend his 2014 F1 drivers championship lead to 22 points.
Earlier in the race, it was a straight fight between the Mercedes', as it has been all season. Rosberg had just about kept Hamilton behind and even resorted to some questionable tactics at the final chicane where, after breaking too late, he accelerated across the short-cut. He survived a penalty but soon after his car began to suffer problems. With the drivers behind catching the Mercedes pair at 2-3 seconds per lap, Rosberg and Hamilton pitted to try and correct the issue. Laps later, Hamilton's brakes failed and his engine gave in.
Leading the hunt and sensing victory was Felipe Massa in the Williams. But an extra pit-stop put him behind Sergio Pérez, Ricciardo, and the eventual third placed, Sebastian Vettel. Perez was leading the train but he was suffering from brake problems and couldn't quite take the fight to Rosberg. Ricciardo and Vettel, on old tyres, couldn't get past Perez; which left Massa with a great chance if he could keep his cool to pass them all.
Unfortunately, he couldn't. He spurned successive chances to overtake Vettel and with the laps tumbling down into single figures he started to get restless. But just as it looked like Rosberg would cling on, Ricciardo barged past Perez with two laps left and hunted down the German. A simple move down the back-straight was decisive and he snatched the lead.
Down the following straight Vettel also got past Perez. The Mexican was struggling badly with his brakes and slowed down too soon for the surging Massa. He hit Perez from behind and sent both cars into the barriers. It was a heavy crash that meant that the race finished under the safety car.
It was a disappointing way to end for Massa and Perez who highlighted their insufficiencies at the front. It has been five long years since Massa was fighting for wins and his rustiness at the front showed. Perez also blew his chance; although car problems hindered him he was too tentative on his older tyres. Behind this battle, the more experienced Jenson Button showed how it should be done by ruthlessly battling through the field to take fourth. Fernando Alonso gave a largely anonymous performance once again to finish sixth, behind Perez's team-mate Nico Hulkenberg.
There were points further down for Valtteri Bottas, Jean-Eric Vergne, Kevin Magnussen and Kimi Raikkonen. Raikkonen was fortunate to land a point after a disastrous afternoon but he benefited from 13 retirements. Next up is a return to the Austrian Grand Prix in two weeks, where Red Bull will be hoping to prolong their success in front of their home fans.
See 2014 F1 Grand Prix of Canada results.
See 2014 Formula 1 Championship Driver Standings.
See 2014 Formula 1 Championship Constructor Standings.
---
Check out more items on this website about: