Everything you need to know about the coming 2023 Spanish Grand Prix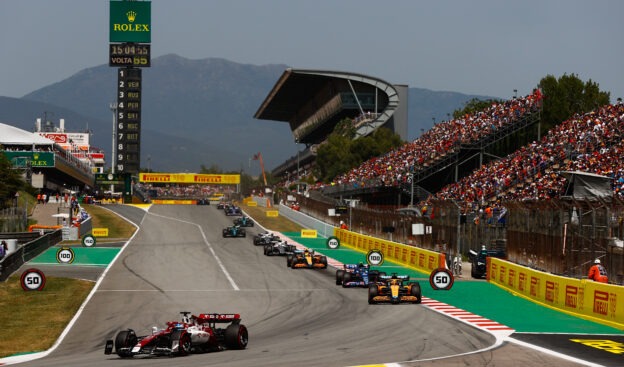 The 2023 Formula 1 season continues with its seventh round, the 2023 Spanish Grand Prix in Barcelona. Max Verstappen and Red Bull arrive as clear favorites for the event after winning it last year and coming off a solid weekend in Monaco.
2023 F1 Championship Summary
Red Bull leads the World Constructors' Championship easily, with six wins in six races and four 1-2s. Red Bull has 249 points, which is more than second-placed Aston Martin (120) and third-placed Mercedes (119) combined.
On his side, Verstappen leads the World Drivers' Championship with 144 points thanks to four wins in six races, and his teammate Sergio Pérez is second with 105 points, 12 more than Aston Martin's Fernando Alonso (93). Mercedes' Lewis Hamilton is fourth with 69 points, while his teammate George Russell follows with 50 points.
Ferrari drivers Carlos Sainz and Charles Leclerc are sixth and seventh in the WDC with 48 and 42 points, respectively.
Lance Stroll is eighth for Aston Martin with 27 points and hasn't scored in the last two rounds.
Behind the Top 4 in the WCC, Alpine (35 points - Esteban Ocon and Pierre Gasly) is now clear in fifth ahead of McLaren (17 points - Lando Norris and Oscar Piastri after Ocon's podium in Monaco.
Haas (eight points with Kevin Magnussen and Nico Hulkenberg), Alfa Romeo (six points with Valtteri Bottas and Zhou Guanyu), AlphaTauri (two points with Yuki Tsunoda and Nyck De Vries) and Williams (one point with Alex Albon and Logan Sargeant) round out the World Constructors' Championship positions.
2023 Spanish GP Facts & Figures
This event will be celebrated on June 4th, the 65th Spanish Grand Prix in history. The race will go for 66 laps and the race distance will be 307.236 km.
The first Spanish Grand Prix was held in 1913. The race was part of the pre-war World Manufacturers' Championship and the European Championship in 1927 and 1935, respectively.
The race on Sunday will be the 53rd World Championship Spanish Grand Prix. The first-ever World Championship of Drivers' race in Spain was at Pedralbes in 1951 when Juan Manuel Fangio's 18-inch tyres proved to be too much against Ferrari's 16-inch tyres and the Argentine emerged with the win and his first World title.
The race was sporadically in the championship during the early years. It took place in 1954 before disappearing for over a decade. It made its return in 1968 with Graham Hill winning for an emotional Lotus team at Jarama, as Jim Clark had died weeks before and that race was the first after the tragic loss of the Scottish legend.
Jarama and Montjuic hosted nine and four World Championship Grands Prix, respectively, between 1967 and 1981, with Jarama also hosting non-championship races in 1967 and 1980. At Montjuic, in 1975, a dark day occurred after a rear-wing failure in Rolf Stommelen's Hill car caused an accident that tragically took the lives of four spectators.
The race again disappeared from the calendar for several years before returning in 1986, at Jerez de la Frontera.
Ayrton Senna and Nigel Mansell provided a great fight for the win in 1986, with the Brazilian beating Mansell by just 0.014 seconds. In 1990, Martin Donnelly suffered a big crash in his Lotus which ended his career as he suffered major leg injuries and brain and lung contusions.
Barcelona arrived in the Formula 1 championship in 1991 and the Circuit de Barcelona-Catalunya has hosted the Spanish Grand Prix ever since and it will be hosting its 33rd straight Grand Prix.
The track has provided some awesome moments like Mansell and Senna again battling with just inches between their cars in 1991 or Michael Schumacher's stunning win in the wet 1996 GP, the first of his 72 wins for Ferrari. Also, Williams took its last win to date in Barcelona, with Pastor Maldonado shocking the paddock in 2012.
Fernando Alonso took his last GP win to date at Barcelona in 2013, whilst Max Verstappen's first-ever win was in Spain in 2016, after Hamilton and Nico Rosberg's Mercedes collided at the start.
Schumacher and Hamilton are the all-time leaders in terms of wins in Spain, with six apiece.
Hamilton has taken victory in Spain in five of the last six seasons, and his effort for P5 in last year's race was truly impressive, as he recovered from a first-lap collision with Haas' Kevin Magnussen and returned to the Top 5 without the appearance of a Safety Car or any other disruption.
Regarding teams, Ferrari has been the most successful in Spain, recording 12 wins.
Mercedes, on its side, has won nine races in Spain, and seven of those came during championship races.
McLaren and Williams have eight wins each, though one of Williams' triumphs was in the 1980 non-championship race.
Red Bull won four times in Spain, with Mark Webber in 2010, Vettel in 2011, Verstappen's maiden victory in 2016, and the Dutchman again winning in 2022 despite an early run to the dirt.
Circuit de Barcelona-Catalunya Track info
The Circuit de Barcelona-Catalunya is challenging and well-balanced. For the 2023 race, the chicane added to the final sector in 2007 has been eliminated and the track will return to its traditional layout, with two sweeping right-handers before the main straight. The changes now make the layout a 4.657 km park with 14 corners. It probably was one of the places drivers and teams know to perfection since winter testing usually took place at the venue. However, there will be some adjustments to be made for the new tweak.
The track is aerodynamically demanding while having a long straight, which makes the setup aspect a very difficult one. Its layout has been slightly altered over the years, with a slower Turn 10 (La Caixa) added instead of a sweeping left-hander in 2004.
For the 2021 event, the track suffered a new change in Turn 10 (La Caixa) as the corner was given a new shape that resembles a bit of the original track layout, and the change was made to enhance safety in that sector.
The lap records for the track in its previous layout are held by Lewis Hamilton (1:16.741 min in the 2021 qualifying - outright record) and Max Verstappen (Fastest Lap during the 2021 race: 1:18.149 min).
2023 Spanish Grand Prix - Tyres
The dry tyres for the 2023 Spanish Grand Prix will be the C1 as P Zero White hard, C2 as P Zero Yellow Medium, and C3 as P Zero Red soft.
Pirelli explained their choice with a statement from its Motorsport Director, Mario Isola: "Traditionally, Barcelona has been one of the most popular venues for testing: both for cars and tyres. It's a complete track, featuring several different types of speeds and corners, and it also has a very long straight. As a result, aerodynamic efficiency is key to being competitive. The final sector has been modified for this year, reverting to the original layout without a final chicane. This makes it a much more flowing track now and also adds to the entry speed onto the main straight.
There are two corners, Turn 3 and Turn 9, which are particularly demanding in terms of lateral forces exerted on the tyres. We've chosen the same three types of tyre as the season-opener in Bahrain, but it's important to remember, when comparing to last year, that this year's C1 is an entirely new compound, specifically designed to bridge the gap between the hardest tyre in the range (now called the C0) and the C2. In theory, this should hand the teams a wider range of strategic choices, given that the hardest available compound last year wasn't used at all in the race.
Another novelty is the chance that the drivers will have during the first two free practice sessions to try out two additional sets of hard tyres that feature the new construction that will be used from the British Grand Prix onwards. Apart from the use of some new material, which has already been homologated following an extensive test programme, the latest specification is identical to the previous version.
Initially this was scheduled for 2024, but its introduction has now been brought forward to make the structure more resistant to fatigue, as the loads generated by the current cars have already reached the targets set for the end of the season after only a few races. This new construction has no impact though on the technical parameters or performance of the tyres. We also continue our 2024 testing campaign after the race, with Mercedes and Ferrari running over two days as we develop the compounds and constructions for next year."
The minimum starting pressures will be 23.0 psi (front) and 20.0 psi (rear).
2023 Spanish Grand Prix - Weather Forecast
Friday, June 2nd - FP1 & FP2
Conditions: Partly sunny
Max. temperature: 23°C
Chance of rain: 25%
Saturday, June 3rd - FP3 & Qualifying
Conditions: Showers
Max. temperature: 23°C
Chance of rain: 74%
Sunday, June 4th - Race
Conditions: Showers
Max. temperature: 24°C
Chance of rain: 65%
Who will be on the 2023 Spanish Grand Prix podium?
Red Bull's 2023 Formula 1 car has already proven to be the fastest car in all conditions and we can only expect the RB19 to again be the class of the field in Barcelona. The most versatile and fastest car on the grid should definitely go well in one of the most balanced tracks in the calendar in terms of aerodynamic and power demands.
Who can push the Austrian squad a bit? Ferrari was strong in Barcelona last year before reliability and driving errors damaged its results, while Mercedes could have a good weekend at a circuit that has been comfortable for the team in the last few seasons.
Of course, Aston Martin has had the second-best car this season and the AMR23 has also been versatile and has adapted well to every circuit and every condition. We should expect Fernando Alonso to return to a podium finish on his home track, where he took his most recent GP win back in 2013 with Ferrari.
The prediction for the top three of the 2023 Spanish Grand Prix is 1. Max Verstappen, 2. Lewis Hamilton, 3. Fernando Alonso.
---
✅ Check out more posts with related topics: