Driver comments 1st day of practice in Australia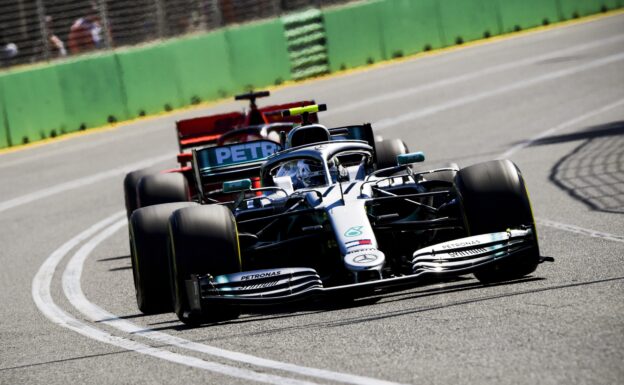 The sandbagging is over!
FP1 and FP2 showed at last the real pace of the 2019 cars and drivers.
If Ferrari and Red Bull didn't make a mistake, we have to conclude that Mercedes is far ahead of Red Bull and Ferrari. Alfa Romeo is indeed the dark horse of 2019 with Kimi Raikkonen only 0,1s off Vettel's time.
The lap times in FP2 don't show the same picture as last year. In last years FP2 we saw the 3 top teams, Mercedes, Ferrari and Red Bull, close together and 5 tents behind them the midfield.
The midfield was then leaded by Haas. In this years FP2 we see a very different outcome. It looks like Mercedes is in his own league now and the midfield has caught up their gap to Ferrari and Red Bull, with Alfa Romeo leading the midfield.
Williams showed that the need for speed isn't over yet. The team from Grove is looking at a huge gap of almost 3 seconds a lap towards the top 10. In the rookies of 2019 had a hard time keeping up with the grid. Best rookie was Alfa Romeo driver Antonio Giovinazzi on P15.
Both Mercedes and Red Bull were very close with only 0,04 seconds between them. New Ferrari driver Charles Leclerc couldn't keep up with his 4 times WC team mate Vettel. He also spun during FP2 and looks up to a gap of 0,3 s.
What have we learned from FP1 & FP2
The cars are faster than last year: the best time from Mercedes driver Lewis Hamilton in FP2 was more than 1.3 seconds faster than the equivalent time last year, despite the cars being heavier. There is a strong chance that we'll see a new lap record in qualifying.
The margins seem close in the midfield, but – so far – there is a clearer gap at the top.
A high degree of track evolution took place throughout the two free practice sessions, as usual at Albert Park.
The tyres behaved as expected today with teams trying all three compounds in warm conditions (24 degrees ambient, 42 degrees on track in the afternoon).
Tyre performance is satisfactory: no issues of blistering or graining. The graining sometimes seen in Barcelona testing has disappeared in warmer weather, as expected.
Performance gap between medium and soft is currently around 0.9 seconds per lap (slightly more than expected) while between medium and hard it's about 0.6 seconds.
Whether or not the Friday times are a good reference is yet to be seen as no points are rewarded during practice. This is what the drivers said after their first 2019 day of practice in Melbourne:
---
Mercedes AMG Petronas Motorsport
Lewis Hamilton (1st in FP2 best lap time 1:22.600)
"It's really nice to get back out on track. The weather is fantastic, we've already got quite a big crowd. I have a positive buzz from driving the car today – this is what I love doing. The car feels like it's in a similar place to where it was in Barcelona, which is positive coming to a different track.
We got through our programme really well, there were no issues on track. There's plenty of stuff that we can improve on, but this was not a bad start. What we have to do now is really study and analyse everything, as we always do on a Friday night. But the fact is we've got two cars that continue to go around, none of us made a mistake and we kept the cars in one piece – that counts for a lot."
Valtteri Bottas (2nd in FP2 best lap time 1:22.600)
"It's nice to be back in a race car, doing the thing we love to do – I had fun today. The car felt better than it did in testing. We didn't bring a lot of new parts to the car, but we were able to optimise the package that we have. It was a solid day for the first day back in the office, but the times are not important on a Friday.
We haven't seen the full performance from any of the other teams. We have an idea of how much we can improve for qualifying, but we have no idea how much performance the other teams can still bring. It will be interesting to see what the first competitive session holds tomorrow."
---

Aston Martin Red Bull Racing
Max Verstappen (3rd in FP2 best lap time 1:23.400)
"I'm quite happy about today and the feeling so far is pretty good. Of course, there are always areas to improve and we are not fast enough yet but it's only the first day of the season and there is a long way to go. It looks like Mercedes are very quick and they seem to be a little happier with the overall balance. In general, the car felt alright with medium and soft tyres but we still need to fully understand the compounds.
My running was also a little different to the others in terms of preparation and there is definitely some lap time in that. We will look at the data tonight and see what we can improve but from the engine side there were no problems and it all ran very smoothly. We had no expectations going into today and it's just good to get started."
Pierre Gasly (4th in FP2 best lap time 1:23.442)

"It was great to be back on track for the first Free Practice of the season, and my first Friday at the track with Aston Martin Red Bull Racing was a special moment for me. It was a positive day, we tested a lot of things and my feeling in the car is getting better lap after lap. There's still work to be done but we're pretty happy with the package.
We didn't have any expectations today, as after testing it's difficult to have a real idea of the pace of others. We managed to find some good direction for FP2 and I felt better in the car than I did in FP1. Let's see what we can do tomorrow. On the engine side, we had a small loss of power on the last lap and after some checks, it turned out to be a minor sensor issue."
---
Scuderia Ferrari
Sebastian Vettel (5th in FP2 best lap time 1:23.473)
"It was fun today. Maybe we were not as fast as possibly we wanted to be and could have been, but it's Friday, after all, so it doesn't really matter. I am sure that by December 1st no one will remember how fast we were on March 15!
I am still lacking a bit of confidence, it was a tricky day for us, as it probably was for everyone. We are not yet where we would like to be, not so much in terms of lap time but more in terms of car feel and handling. We didn't really get into the groove and into the rhythm, which is quite important round here on such a bumpy but I think that tomorrow will be a better day and if we can get that confidence back, then there's a lot of lap time in that.
There were bits of the session that were really, really good and we can build on, so now it's all about stringing it together and having a better day tomorrow. The night is long and our engineers are very smart. I am relaxed".
Charles Leclerc (9th in FP2 best lap time 1:23.754)

"It was definitely a busy day. We tried different tyres and types of set-up and I am very satisfied with some aspects. The first session was better than the second, maybe because the wind got up in the afternoon and we struggled a bit more to find the right reference points.
Having spoken with the engineers, I believe that, nevertheless, we have understood where we have to improve and we will go in that direction. We have one more session in which we can put into practice the solutions that an analysis of the data suggests, in order to be ready for qualifying".
---
Alfa Romeo Racing
Kimi Raikkonen (6th in FP2 best lap time 1:23.572)
"We have a solid day of work behind us, there were no big issues. We still have some set-up work to do to improve the car, but overall it felt quite good.
I look forward to qualifying tomorrow, behind the top teams anything is possible."
Antonio Giovinazzi (15th in FP2 best lap time 1:24.293)
"Overall, the day was positive. The car felt good and I am happy with our performance, especially regarding the long-runs.
I am excited to have started my first full race weekend and look forward to being back on track tomorrow."
---

Renault F1 Team
Nico Hulkenberg (7th in FP2 best lap 1:23.574)
"We recovered well today after a far from ideal first session. FP2 was good and consistent. I felt comfortable straight away in the car, which is one of the most important things for a driver.
We're coming in to a different circuit to that of testing and it's such a contrasting track to get a feel for. I felt at home - happy as we can be at this stage - and we ran to our programme as planned in FP2. Our long runs were good, but there is still a lot of data to analyse overnight before Qualifying tomorrow."
"It was good to get the first day done. It's been a busy week with a big build-up so to get Friday practice completed is nice. We had some consistent running in FP2 and I was certainly growing more comfortable on each run.
We still have lots to learn and improve on, but we're getting there. For me, it's about developing the understanding of the car and we've made a good start on that today. Qualifying will be interesting tomorrow and I'm looking forward to it."
---
Rich Energy Haas F1 Team
Romain Grosjean (10th in FP2 best lap time 1:23.814)
"It's good to be back out there. This is a track I've always enjoyed driving, matched by the great atmosphere in the paddock. It looks like it's quite tight in the midfield, which is super exciting.
Everything we learned in testing has been working quite well here. We'll find out a bit more tomorrow, but I think for the first day, we're pretty happy with what we've got."
Kevin Magnussen (12th in FP2 best lap time 1:23.988)
""It wasn't too bad today. It was nice to be back driving on a racing track on a race weekend. I'm excited about that. It felt good, but as always, we've now got lots of things to look at.
We'll be working hard tonight, but there's no big issues, we're pretty happy
with the performance in the car. I'm looking forward to tomorrow.""
---

SportPesa Racing Point F1 Team
Lance Stroll (13th in FP2 lap time 1:24.011)
"It was our smoothest day of testing so far and we completed some valuable mileage. The car felt good so I think we are heading in the right direction. These days are about building confidence and getting to grips with the new car, but also getting used to this new environment.
I am getting on really well with the crew in the garage. They're great people and everyone is working so hard. We ran on a mix of different tyres today and tried a lot of test items. There's a good atmosphere in the garage and I'm feeling pleased with the work we did today."
Sergio Pérez (16th in FP2 best lap time 1:24.401)
"It's always a good feeling to be back in the car for the start of the season, but we are not yet where we want to be in terms of competitiveness. These first two sessions were quite difficult for me and I am not really happy with the balance of the car and the tyres yet.
We had many new parts on the car today and we still need to fully understand them, so we tried to come up with the best possible compromise for tomorrow. It's hard to know where we stand compared to the other teams after just one day of practice, but we know the midfield pack is very close so anything we can find overnight will be beneficial."
---
McLaren F1 Team
Carlos Sainz (14th in FP2 best lap time 1:24.133)
"It's been a bit of a complicated day for us with a couple of chassis and engine issues which compromised our run plan. However, we were still able to do some valuable laps. We're still in the mix with the other teams in what we knew was always going to be a tight midfield.
"Hopefully we can work on the issues and we'll see what we can do tomorrow. We're not far from the top 10 and there's more to come from us – we certainly have a margin, but so does everyone else. Tomorrow will be interesting and is the day that counts, first quali of the season, and I really look forward to putting the car in a good position for Sunday."
Lando Norris (18th in FP2 best lap time 1:24.733)
"We improved the car between sessions, and now have a direction in terms of where we go tomorrow on set-up and, importantly, have made progress. It's all about making small steps forward.
"Getting used to this track for the first time was my main focus in FP1. It's not an easy circuit, very bumpy and easy to lock-up. I was a lot more confident in FP2 and so looking ahead to FP3 I feel pretty comfortable."
---
Scuderia Toro Rosso Honda
Daniil Kvyat (11th in FP2 best lap 1:23.933)
"Both free practice sessions today went well, we managed to run through our programmes and complete quite a few laps, which is important around this circuit.
The car felt good, I think we maximised our time on track and we just need to look into what we want to change overnight. I think there are still steps we can make to improve the car for  tomorrow, so we'll try to work on that tonight."
Alexander Albon (17th in FP2 best lap time 1:24.675)
"I'm still getting used to the timetable of an F1 weekend as well as to the car and the track. This circuit isn't easy, but I think our pace looks good so far and I'm slowly building up confidence.
I took it a bit easier after the spin in FP1 and once I got back up to speed we went on with the programme, trying a few more things on the car. Timesheet apart, we're looking pretty strong in a very tight midfield and now it's up to us to do our homework tonight to improve tomorrow."
---

ROKiT Williams Racing
George Russel (19th in FP2 best lap 1:26.453)
"It was great to get out on the track in Melbourne for the first time. It really is an amazing circuit. On my first lap when I went down into turn three it felt like I was flying as everything was so close together. However, we didn't have the best of days in terms of laptime, as we are a long way off the rest at the moment.
We know what we are in for across the first few races so we need to focus on building on that and making sure come mid-season we have something better. Overall, it was an amazing experience, especially with all the fans around the circuit, it is something that I will remember for a long time."
Robert Kubica (20th in FP2 best lap time 1:26.655)
"This morning was quite difficult for us with much less grip from the track. We know Australia is more bumpy and the surface is completely different to Barcelona.
We struggled quite a lot with general grip; this afternoon the feeling was slightly better as conditions improved and also the temperatures helped us a bit. We have to try to get the maximum from what we have and it depends what that maximum will be. I think we cannot target much more so the realistic aim is to extract the maximum from what we have."
---
See Lap times 1st practice 2019 Australian F1 GP
See Lap times 2nd practice 2019 Australian F1 GP
---
✅ Check out more posts with related topics: