Debate Ignites: Should Iconic Eau Rouge Embrace a 1994-style Chicane?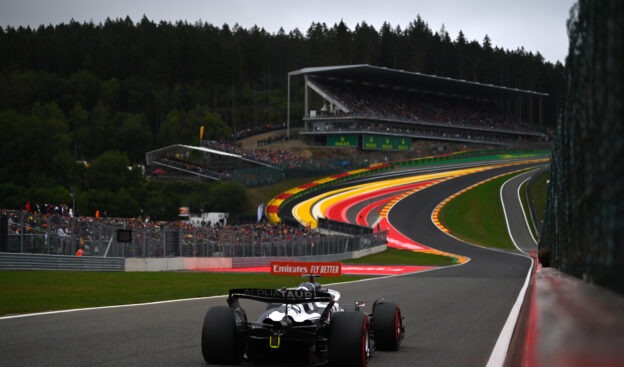 Jul.10 - Two more prominent Formula 1 figures agree that the treacherous Eau Rouge-Raidillon section at Spa-Francorchamps may need to be changed.
Following the recent t-bone fatality of junior category driver Dilano van 't Hoff in almost an identical replay of the death of Anthoine Hubert in 2019, it has been proposed that Spa revert to a 1994-style slow Eau Rouge chicane.
The chicane - and others elsewhere on the calendar - was temporarily put in place as an immediate reaction to Ayrton Senna's death.
Former F1 driver Ralf Schumacher thinks the same solution could work again in 2023.
"You'd put it in front of Eau Rouge again," he said. "This drastically reduces the speed and therefore the risk of a frontal crash at high speeds."
Another proponent of the solution is Guanyu Zhou, who admits to being spooked about safety following his high speed upside-down slide at Silverstone last year.
"From my side, the (Spa) layout needs to change," the 24-year-old said at Silverstone.
"I lost a friend of mine there in 2019, Anthoine (Hubert), so it kind of hurts there. It's an iconic corner for sure, but just for safety, we've lost too many lives in the past and I think it's time.
"I saw some videos of 1994, I think - when there was a slow little chicane," Zhou recalled. "I think that's the right way forward."
Now, Mercedes boss Toto Wolff has backed the idea of a fundamental layout tweak in the Eau Rouge-Raidillon stretch.
"We love the track, but we have to think about it," he told Sky Deutschland after the British GP.
"As a driver, you love Eau Rouge - but you can't just let it sit like that. When two young people, who can't help it at all, die there, you have to change the track."
And Mika Hakkinen, whose overtake on the great Michael Schumacher after the pair blasted through Eau Rouge back in 2000 is rated as one of the best in F1 history, agrees.
"This is a dangerous sport," he told Viaplay. "You can't get over it or around it. Everyone knows it, the drivers too.
"The FIA works a lot for safety. The tracks are improved, the runoff is expanded and the cars are strengthened," Hakkinen added. "And then when something like this happens, it's a terrible setback.
"Of course it has to be changed," said the Finn when asked about Eau Rouge-Raidillon. "Many accidents have happened in that bend.
"It causes such crazy situations. Of course everyone is talking about how awesome Eau Rouge is. But come on, we can't play with human lives."
---
✅ Check out more posts with related topics: