Briatore - Even with Raikkonen, Alonso still 'number 1'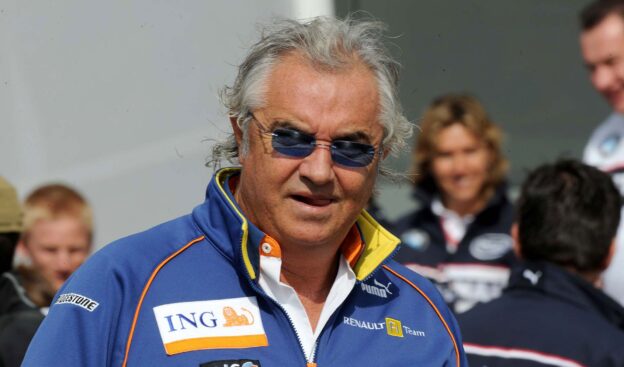 Flavio Briatore insists Fernando Alonso will not be worried if Kimi Raikkonen is signed by Ferrari for 2014.
As the long and sillier-than-usual driver 'silly-season' finally looks set to draw to a close, Ferrari president Luca di Montezemolo said at Monza he is now poised to decide the famous Italian team's next lineup.
"We will take a decision in the next days, and we haven't taken any kind of a decision yet," he said on Saturday.
Undoubtedly, the frontrunners to be Spaniard Alonso's teammate next year are Kimi Raikkonen, Felipe Massa and Nico Hulkenberg -- and probably in that order of preference.
The fact former team champion Raikkonen, first signed in 2007 to replace former 'number 1' Michael Schumacher, is Ferrari's preference probably explains Alonso's foul mood of recent weeks.
The latest evidence that all is not well in the Alonso-Ferrari marriage was broadcast live in the Italian tongue at the end of qualifying on Saturday.
Alonso called his colleagues either "scemi" (stupid) or "geni" (geniuses) -- the double world champion insisted it was the latter.
"It's ok," Alonso said. "I am long enough in formula one that I know that these things are hyped."
But the episode left Montezemolo visibly furious, and initially refusing to give interviews.
Later, when asked about the radio controversy, he told Italian reporters: "I don't know and I don't care, the issue is to be united and to fight with knives between our teeth tomorrow."
The undoubted elephant in the room, however, is Raikkonen.
"First of all, Kimi is a good driver," said Montezemolo, when asked about the strengthening rumours.
As for his apparently strained relationship with the taciturn Finn, he answered: "What happened in the past with Kimi (and Ferrari)? We won a world championship."
Many in the paddock think the 33-year-old, to be the oldest driver in F1 next year after Mark Webber's departure, has already signed a 2014 deal.
"Ha," Raikkonen told F1's official website on Saturday, "some days ago the same people were 100 per cent sure that I'd signed for Red Bull! So much for that."
But if he does eventually sign, surely Alonso - the current Ferrari 'number 1' - will not like it. The looming prospect of having Felipe Massa replaced by Raikkonen would surely explain Alonso's recent foul mood.
Briatore, who is still involved in Alonso's management, doesn't see it like that.
"Fernando is the number 1 and I don't see any others," he said at Monza, "unless you are talking about Hamilton and Vettel. These are the roosters in formula one.
"He (Alonso) would have no problem to drive with any teammate. He just needs a driver who collaborates in the development of the car," Briatore is quoted by La Gazzetta dello Sport.
In truth, if Ferrari is determined to drop Massa, and Alonso then gets his way, the driver who would be signed qualified third on Saturday -- in front of both red cars.
"I am pleased to see it (the Sauber) up there with the best," said Montezemolo, "because it shows we have a great engine."
He didn't refer specifically to the 26-year-old German, but Nico Hulkenberg did his cause no harm at Monza with a giant-killing performance in an inferior car.
"He is incredibly fast," triple world champion Niki Lauda said on German television RTL. "He proves time and time again, and especially now, just what he can do."
Even Hulkenberg admitted he did his quest for Massa's seat a big favour at Monza.
"I can only influence it (Ferrari's decision) by performing very well, and obviously the timing (of qualifying third at Monza) is not the worst," he smiled.
---
✅ Check out more posts with related topics: