Adrian Newey: Red Bull was worried about 2012 F1 season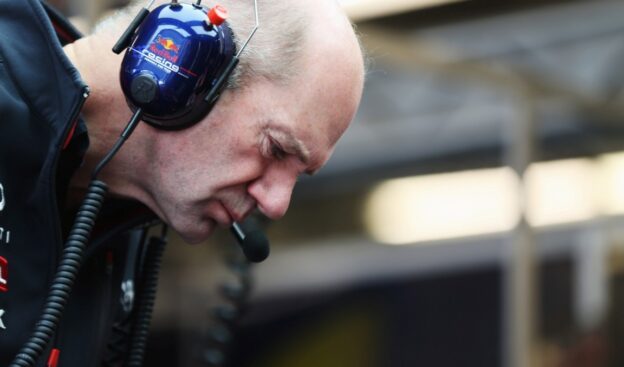 Adrian Newey has admitted he began the 2012 season feeling "worried" about the likely performance of his latest Red Bull.
Ultimately, the history books show that the energy drink-owned team has utterly dominated the past three championships, capturing every drivers' and constructors title consecutively since 2010.
But 2012, according to Red Bull's lauded technical boss, was different.
"Unfortunately, we realised even before the season that it would take some time to understand the car," Newey told Italy's Autosprint magazine.
"We were worried.
"The problem was with the 'blown' exhausts that we introduced in 2010 and around which we completely designed the 2011 car.
"Everything, including the position of the batteries, was based on it."
Told that he obviously resents the FIA's exhaust rules clampdown, Newey admits: "Oh yes, because it is a restriction.
"If you limit the regulations too much, for me it becomes 'GP1' -- just a brand and not formula one."
Even ahead of the 2013 season, the FIA is still tweaking the rules to close loopholes: the next cars will, for one, pass even stricter nose flexibility tests.
"You see," Newey insists, "the fact is that the so-called 'spirit of the regulations' doesn't really exist.
"If you find a gap that allows you to defeat the purpose of the existing rule, but without violating the letter of the regulation, then we need to see if it is feasible.
"That is the true nature of F1. Yes, we have found some possibilities that maybe the rules do not provide for, but are not prohibited.
"It makes other people mad, but I get sick of being constantly under attack, as the reality is that the other teams and the FIA have always kept an eye on us.
"But they never find any rule that we have broken."
And Newey suggested that the bleating of other teams is not only annoying, but also hypocritical.
"Like the famous 'hole in the floor' we introduced in Bahrain," he said. "At another point in the year Ferrari was running an identical solution."
---
✅ Check out more posts with related topics: