2014 Spanish F1 Race report: Hamilton hangs on in Barcelona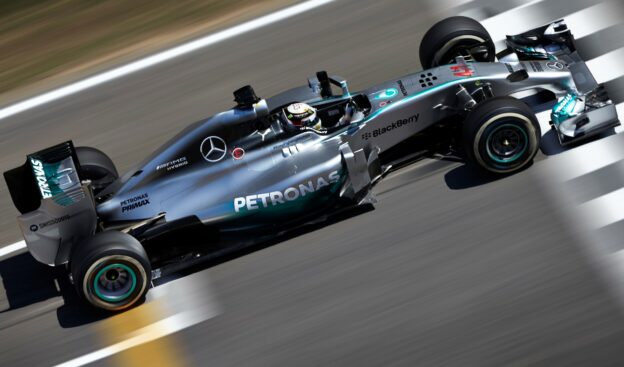 Lewis Hamilton won his fourth straight race with a fine win at the Spanish Grand Prix. Once again he held off a late challenge from his team-mate, Nico Rosberg, and for the first time this season he leads the championship standings. Daniel Ricciardo finished third for his first official podium after being disqualified in Australia.
The Mercedes drivers were in a class of their own and look set to dominate the whole season. Barcelona is usually the setting for major updates but their rivals have failed to progress far enough to become a serious challenge.  Red Bull is the only team who could mount a challenge after they showed impressive pace, despite being a long way behind. Sebastian Vettel staged a superb fight back from 15th to finish 4th.
The world champion started five places back from his 10th placed qualifying after a gear box change. After a timid start he gave his best performance of the season. At the front Hamilton once again converted his pole position into a first lap lead. A tactical battle then ensued between the Mercedes drivers who split strategies. Rosberg finished the race on the stronger tyres but it was a familiar story for him this season. He had the pace but couldn't quite manage to get by his team-mate. For him, the blow of losing the championship lead could be huge.
The other team-mate battle that dominated the weekend occurred at Ferrari. Despite being well off the pace and with turmoil engulfing Marranello, both Raikkonen and Alonso put on a fascinating show. Kimi had the upper-hand after qualifying but Alonso showed all his battling qualities to snatch 6th late in the race. Neither, however, will be impressed with the manner in which Vettel managed to catch and pass them laps earlier.
The German went on to make a late move on Valtteri Bottas  to take 4th. It was rather unjust on the Finn who drove a calm and measured race. He looked set for a podium before Vettel's team-mate Ricciardo managed to pull away in the second half of the race. Further back, Romain Grosjean scored some welcome points for Lotus after their dismal start to the season. His 8th placed finish proved that, when healthy, the car looks quick. They'll be hoping to use this momentum and propel themselves further up the grid. The points were completed by Force India pair Sergio Pérez and Nico Hülkenberg, with the Mexican holding off 'the hulk'.
Next F1 moves to Monaco, where Nico Rosberg will be hoping to re-take the championship lead. At a circuit he considers one of his favourites and in the country he lives, it is a great chance for Rosberg to re-stamp his authority over Hamilton. If he is going to win the championship, or at least compete with Hamilton, this is one he has to take.
---
✅ Check out more posts with related topics: