The Showmen of the Track: Five Most Entertaining Drivers in F1 History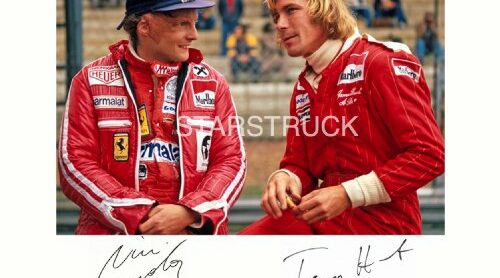 Formula 1 is not just a sport of aerodynamics, rubber, and roaring V8s, it's a grand stage where heroes come to life. What sets Formula 1 apart is its larger-than-life personalities who add excitement, drama, and flair with each lap they complete. These are the men who dared to be more than just drivers, they became the beating heart of a sport watched by millions worldwide.
James Hunt: The Maverick
If you're nostalgic for the 1970s chapter of F1, then James Hunt is no stranger to you. The British sensation embodied the 'playboy racer' archetype, notorious for his bold antics both on and off the track. But Hunt was more than just fast, he was an entire show, always at arm's reach from a bottle of bubbly or making headlines. His epic battles with Niki Lauda have become the stuff of legend. His fearless driving style and irresistible charisma are throwbacks to a past era, one rich in glamour, risk, and raw allure.
Ayrton Senna: The Intense Rival
Delving into the rich tapestry of F1's past, one can't bypass Ayrton Senna. The Brazilian maestro combined unmatched skill with fiery emotion. His epic clashes with Alain Prost have become iconic, defining the theatre of F1 at its most intense. With a driving style that spared no quarter, Senna forced both himself and his rivals to the edge. But beneath this fierce competitor was a spiritually centered individual, for whom racing was more than a sport, it was a calling. His tragic death mid-race underscores the inherent risks these athletes take to etch unforgettable stories into our memories.
Niki Lauda: The Comeback King
Niki Lauda's near-fatal accident in 1976 became a defining moment for F1. Defying all odds, he returned to racing just six weeks later, embodying the epitome of resilience. His remarkable comeback not only delighted fans but also demonstrated the unpredictable nature of sport. This element of uncertainty enhances the allure of Formula 1 odds, offering spectators various avenues for betting. Lauda's tale of miraculous recovery adds a rich layer to the sport's history, making it as much about human courage as it is about high-speed racing.
Daniel Ricciardo: The Smiling Assassin
Fast-forwarding to modern times, Daniel Ricciardo has emerged as one of the sport's most engaging characters. Known for his toothy grin and jovial demeanor, "The Honey Badger," as he's often called, is equally feared on the track for his audacious overtakes. He exemplifies the term "work hard, play hard," achieving podiums and then famously celebrating with a 'shoey.' While his career might not be as long or as storied as some of the other legends, his knack for entertainment is unparalleled in the current grid.
Lewis Hamilton: The Modern Icon
In a challenging 2023 season, Lewis Hamilton has demonstrated resilience, accumulating multiple podiums and extending his F1 records. Known for his late-braking skills, honed by early guidance from his father, Hamilton is more than a driver. His activism in social issues and philanthropy, coupled with ventures in sustainable fashion, contribute to his iconic status. Both a knight and a prominent UK taxpayer, Hamilton's influence transcends the racetrack, solidifying him as a modern cultural icon.
---
✅ Check out more posts with related topics: