The Crypto Revolution in F1: How Crypto companies are fueling motorsports sponsorships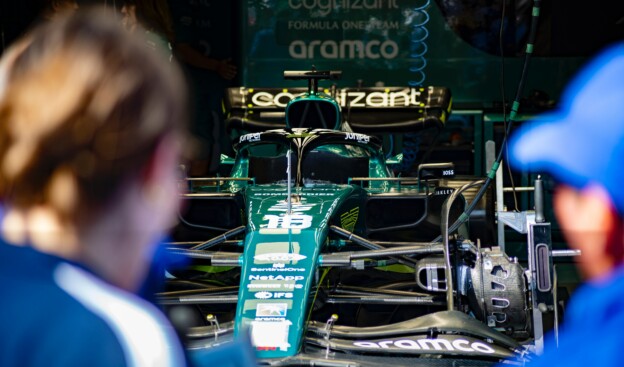 The world of Formula 1 has always been closely associated with innovation and cutting-edge technology. In recent years, the rise of cryptocurrencies and blockchain technology has revolutionized various industries, including motorsports. The sport has seen an influx of crypto companies entering the scene as sponsors, using the high-profile nature of F1 to showcase their products and services related to cryptocurrency investments. In this article, we will explore the growing relationship between crypto companies and Formula 1, and how these sponsorships are shaping the future of motorsports.
Crypto Companies Enter the F1 Scene
As cryptocurrencies such as Bitcoin have gained more widespread recognition and adoption, crypto companies have started to invest in sponsorship deals with F1 teams. These partnerships offer significant benefits for both parties, as F1 teams receive financial support and increased brand exposure, while crypto companies gain access to a global audience.
Some of the most prominent crypto companies that have entered into partnerships with F1 teams include:
Aston Martin Cognizant Formula One Team and Crypto.com: In 2021, Crypto.com, a popular cryptocurrency exchange and payment platform, announced a multi-year partnership with the Aston Martin F1 team. The partnership includes branding on the team's cars and driver suits, as well as collaborations on exclusive fan experiences and NFTs (non-fungible tokens).
Alfa Romeo Racing ORLEN and Bitci.com: The Swiss-based F1 team, Alfa Romeo Racing ORLEN, announced a partnership with Bitci.com, a Turkish cryptocurrency exchange. The partnership includes branding on the team's cars, driver suits, and team gear, and it also marks the first time a Turkish company has entered the world of Formula 1.
Red Bull Racing and FuturoCoin: In 2019, Red Bull Racing partnered with FuturoCoin, a relatively new cryptocurrency at the time. The partnership marked the first-ever cryptocurrency sponsorship in Formula 1, paving the way for other crypto companies to follow suit.
Why Crypto Companies are Attracted to F1 Sponsorships
Formula 1 is a high-profile sport with a global audience, making it an attractive platform for companies looking to promote their brand and products. Crypto companies, in particular, are drawn to F1 for several reasons:
Global Reach: Formula 1 is a truly global sport, with races taking place on five continents and attracting a viewership of over 400 million people annually. This widespread audience offers crypto companies an unparalleled opportunity to raise awareness about their products and services.
Alignment with Innovation: Formula 1 is synonymous with innovation, as teams constantly push the boundaries of technology to gain a competitive edge. This makes the sport a natural fit for crypto companies, as they too are at the forefront of technological advancements in finance and digital assets.
Young and Tech-Savvy Audience: Formula 1 has a growing fan base of young, tech-savvy individuals who are more likely to be interested in and adopt cryptocurrencies. By partnering with F1 teams, crypto companies can tap into this demographic and build brand loyalty among potential customers.
The Impact of Crypto Sponsorships on F1
The influx of crypto companies sponsoring F1 teams has had a significant impact on the sport, both in terms of finances and technological advancements.
Financial Impact
Crypto sponsorships have provided F1 teams with much-needed financial support, helping them to continue competing at the highest level of motorsports. The increased funding from crypto companies has enabled teams to invest in new technologies and facilities, ultimately making the sport more competitive and entertaining for fans.
Technological Advancements
As crypto businesses become increasingly engaged with F1, their know-how and technology are being incorporated into various aspects of the sport. This integration can be observed in areas such as fan interaction, digital assets, and the implementation of blockchain technology across multiple facets of the sport. A few instances of these advancements are:
Fan Interaction: Crypto enterprises are collaborating with F1 teams to develop exceptional fan experiences, such as exclusive event access, behind-the-scenes content, and virtual meet-and-greets with drivers. These collaborations help to deepen the connection between fans and their favorite teams, further fueling the popularity of the sport.
Digital Assets and NFTs: The world has seen a surge of interest in non-fungible tokens (NFTs), and Formula 1 has not hesitated to adopt this new trend. F1 teams collaborate with cryptocurrency firms to produce and market NFTs that symbolize one-of-a-kind, collectible digital items such as virtual race cars, drivers' helmets, and signed memorabilia. These digital collectibles offer fans an innovative way to interact with the sport and show support for their favorite teams while contributing to F1's revenue stream.
Blockchain Technology: Formula 1 teams are starting to investigate the possibilities that blockchain technology offers in areas like data management, supply chain monitoring, and even merchandise sales. By utilizing blockchain's capabilities, teams can enhance their operational efficiency, security, and transparency, gaining an edge both on and off the racetrack.
The Future of Crypto Sponsorships in Formula 1
The relationship between crypto companies and F1 is still in its early stages, but the potential for growth and innovation is immense. As more crypto companies enter the sport and existing partnerships mature, we can expect to see a continued impact on the financial stability and technological advancements within F1.
The involvement of crypto companies in Formula 1 is just one example of how industries are leveraging the global appeal of the sport to reach new audiences. Online gaming platforms, such as real-money slots, are also finding value in partnering with F1 teams and events to expand their reach and enhance brand visibility. As the sport continues to grow and evolve, we can expect to see even more diverse industries entering the world of F1 sponsorship.
As more crypto companies join the sport and existing collaborations evolve, the financial stability and technological advancements within Formula 1 are likely to be significantly impacted.
The growing acceptance and adoption of cryptocurrencies could lead to new opportunities for F1 and its teams, such as accepting crypto payments for merchandise and F1 tickets, or even creating their own team-branded cryptocurrencies or tokens.
Partnership between crypto companies and Formula 1 represents a natural alignment between two innovative, forward-thinking industries. As they continue to collaborate and learn from each other, the future of motorsports looks set to become even more exciting and technologically advanced, fueling the passion of fans and driving the sport to new heights.
---
✅ Check out more posts with related topics: