Red Bull Ring Circuit Details
Location:
Austria, Spielberg
Race:
Austrian Grand Prix
Used Since:
1997
Type:
Closed Cricuit
 Lap Dist.:
4.319 km
Lap Record
| | |
| --- | --- |
| Lap Record: | 1:08,337 min |
| Date: | 18 May 2003 |
| F1 Driver: | Michael Schumacher |
| F1 Car: | Ferrari F2003GA |
| Speed: | 227,526 km/h |
Pole Record
| | |
| --- | --- |
| Record Pole: | 1:08,082 min |
| Date: | 11 May 2002 |
| F1 Driver: | Rubens Barrichello |
| F1 Car: | Ferrari F2002 |
| Speed: | 228,378 km/h |
Onboard Lap F1 Video


Red Bull Ring (A1 ring)
A1 Ring Circuit Layout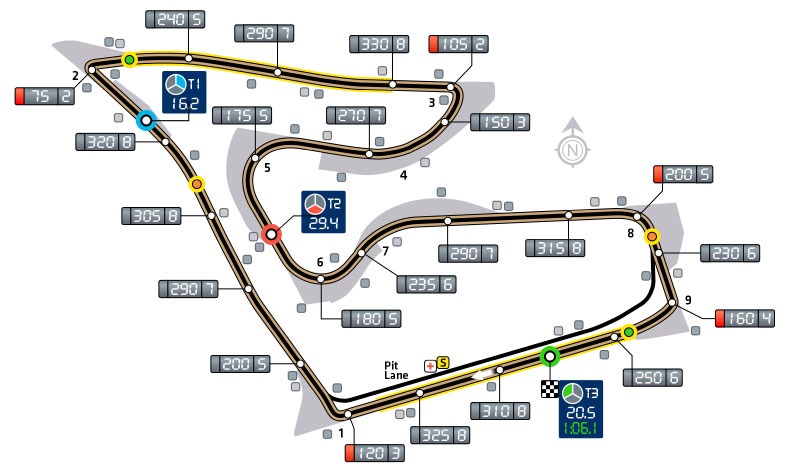 Red Bull Ring History
In modern times Formula One continues to spread its brand around the world. With each season, new races emerge in different sectors of Asia and USA making it a truly global sport. So when the announcement was made that Austria will return to the calendar for the first time since 2003, it was welcomed as an old friend.
Formula One has been in danger of losing its soul. Europe, the heart of the sport, has seen its slice of the calendar shrink each year. Races in Asia have been beneficial to motor racing in many ways but they shouldn't take the place of the tracks that the sport grew up with. Austria, an old school circuit that once had the same levels of fear as Spa, deserves it place on the grid.
A lick of paint and a new pit-area and grandstand are the only major changes that have occurred at the, now called, Red Bull Ring and F1 is likely to encounter an old-school rugged track that is now, sadly, a rarity. The circuit, in the south-east of the country in the beautiful Styrian Mountains in Spielberg, is entering its third phase as an F1 circuit after two eras defined by controversy.
It made its debut in 1970. Then called The Osterreichring, it was famed for its high speed, steep hill climbs and danger. The current track is a much safer version. The heavy crashes and fatalities of the 70's needed to stop, but this was to the detriment of the track. Shorter than the original, it lost much of its character when it returned after a ten year break in 1997. It still offers long straights, plenty of over-taking opportunities and a rugged edge that will catch out many drivers who are used to being pampered in Abu Dhabi and Singapore.
This time, amongst the bland circuits we see today, it should pose a challenge to the drivers in a way that Hockenheim has failed to do since it re-designed itself in 2002. Whereas the legendary German track has been criticised for its disappointing modifications, absence has made the heart grow stronger for Austria. The Osterreichring may not exist anymore, but it is still a joy to be racing there again.
Traditionally, it has always produced moments of debate. As Lewis Hamilton and Nico Rosberg battle for the championship, team orders aren't in sight. However, Austria played host to the most condemned example of team order in 2002. Rubens Barrichello, who played second fiddle at Ferrari to Michael Schumacher for so long, was about to get one over on his rival by taking a deserved victory in Spielberg. Schumacher, who had dominated the season and was on his way to a 5th world championship, was deemed to need the win more. Ferrari forced Barrichello to move over. Austria's most famous race was a total miscarriage of justice.
Now under the ownership of Red Bull, who have brought this previously derelict track back to life, Austria has a chance to re-establish itself back on the F1 calendar and how wonderful would it be if it could do it. We need more tracks like The Red Bull Ring as Formula One maintains its soul. Welcome back Austria, welcome back.
Previous F1 GP Winners on Red Bull Ring (A1) Circuit