Circuit Details
Lap Record
Pole Record
Location:
Nagoya
Lap Record:
1:31.540 min
Record Pole:
1:29.599 min
Race:
Japanese Grand Prix
Date:
9 October 2005
Date:
7 October 2006
Used Since:
1987
F1 Driver:
Kimi Räikkönen
F1 Driver:
Rubens Barrichello
Type:
Closed Cricuit
F1 Car:
McLaren MP4/20
F1 Car:
Ferrari 248F1
 Lap Dist.:
5.807 km
Speed:
228.372 km/h
Speed:
228,553 km/h
Suzuka Circuit Layout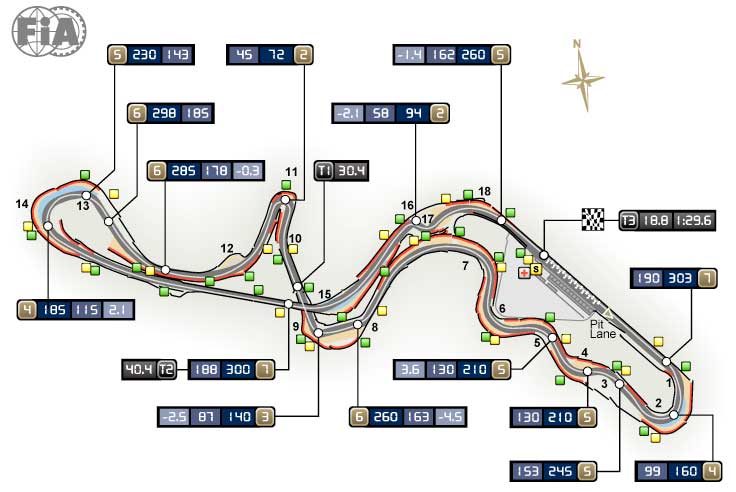 Suzuka circuit: Three corners in detail
The Esses (Turns 3 – 7)
The high speed Esses are a flowing sequence of interlinking turns that sees the car change direction rapidly at very high speed. The driver will enter turn three, the start of the Esses, at approximately 245kph and carry the speed through until the exit of the complex. The high speed switches of direction subject the internals of the engine and lubricant systems to high lateral G-forces. The fuel and oil can be squashed to one side of the tank away from the collectors, so engineers must regularly check minimum levels. Gear selection is also crucial here as the driver will spend approximately 15secs in fourth or fifth gear through this section.
Spoon Curve (Turns 13 – 14)
The Spoon Curve is another Suzuka circuit classic. The driver enters Turn 13 at around 180kph and shifts down, but then quickly blips the throttle while turning in for Turn 14. He then brakes down further, dropping the speed to 140kph. This corner is all about keeping the rhythm going: if the driver is too aggressive on the throttle he will lose time through Turn 14 and will carry this deficit all the way through the 130R. Be too slow on the throttle and he will lose tenths on the entry and apex. The challenge here is to give the driver the necessary torque response when required.
130R (Turn 15)
The awesome 130R corner is actually a straight in engine terms, with the driver at full throttle throughout the corner. This long 'straight' is a huge 1,250m from the exit of the Spoon Curve and is taken at nearly 310kph, subjecting the drivers and car to massive g-forces as they take the corner. Drivers will brake down to under 100kph for the chicane leading onto the pit straight so engine engineers will work to provide effective engine braking as well as literal braking and rear stability for this big stop.
Previous F1 GP Winners on Suzuka Circuit